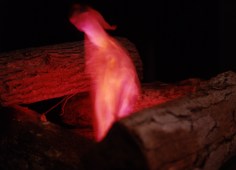 This is a photo of our new campfire system (not my homemade one)
Note: I used this for a number of campfire re-creations at least 5-6 times, but the last one went a little longer then normal as our singing got carried away, and I noticed the burning wood smell was VERY realistic, that was when I jumped up and unplugged my homeade unit and decided that it was time to retire it for the safety of the kids around me. (This is a true story) I started looking for alternatives and found a safer, more realistic, and less hassle of a unit which was UL certified. When I discovered the price was barely more then I had in materials for my homemade campfire, I began to ask myself why I stressed myself out over when my homemade campfire would really burst into flames. IndoorCampfires.com carries a nice portable indoor campfire (1-888-638-1509)
Click here for a you tube video to see an artificial campfire in action
For added realism, place a small computer speaker or mini speaker and portable cd player (walkman style) under the wood surrounding the campfire to play your crackling fire sounds.
No fire is complete without campfire songs:


--touch--
use real logs, sticky smores, and poison ivy (just seeing if you are still awake)


--smell--
FREE: in the room next door to your campfire, have a cookie tray with smores (Graham cracker, Hershey's chocolate bar, and marshmallows) assembled and your oven pre-heated. Just place the smores in the oven to slowly bake and wafe the smell accross to the adjoining room. or pull the smores out and set them in the room near your campfire just as the lights go down and the fire starts up.

(You could always burn a few marshmallows for the smell of it.)

I found this amazingly realistic woodfire scent available from scent-air technologies to use with the indoor campfire. see their website for details.
Note: these campfires really work as a great prop to enhance scouting ceremonies that have to be held indoors.


--taste--